The Autism Mentorship Program (AMP), a unique
mentoring concept, pairs autistic youth and adults in meaningful, one-to-one mentoring relationships
designed to provide support for the present and hope for the future. 
Proud to be fiscally sponsored by Pillsbury United Communities, AMP offers the resource that many autistic adults say was missing from their own lives.

What Makes AMP Unique?
AMP is a first-of-its-kind program, designed by autistic adults for autistic youth to provide enrichment and hope to both.  AMP offers the resource that many autistic adults say was missing from their own lives.  The vision for AMP is two-fold:
To offer autistic teens emotional support, a sense of identity and belonging, and help developing their strengths and advocating for their needs.


To invite autistic adults to serve as role models and leaders in their community, share their unique
insights and experiences, and empower autistic youth to feel successful and thrive.
AMP staff member AJ Hokland
on the "Autism After 18" podcast

Meet Josie, an AMP mentor

KARE-11 news story about AMP's beginnings
Click here to visit KARE11 in a new window

KSTP news story about how AMP adapted during the pandemic
https://kstp.com/news/autism-mentorship-program-finds-silver-linings-while-adjusting-during-pandemic-december-18-2020/5955635/
Why AMP?
AMP is the brainchild of Emily Goldberg, the mother of two young autistic sons.  She realized that while her boys were supported by a network of family, friends, teachers and therapists, they did not know any autistic adults who could serve as positive role models. She envisioned a
program in which autistic adults would serve as mentors for children and adolescents who face the unique
challenges that growing up autistic in a neurotypical world can present.
AMP Partnerships
A groundbreaking collaborative initiative, AMP united the following key partners to design the program:
Autistic individuals 

Parents and caretakers of autistic youth 

Autism Society of Minnesota (AuSM) staff

Minnesota Independence College and Community (MICC) staff 

Bloomington Public Schools' special education staff 

MENTOR Minnesota advisor

University of Minnesota academic partners


Dr. Lindsey Weiler

from the Department of Family
Social Science and

Dr. Rebekah Hudock from

the
Division of Clinical Behavioral Neuroscience. 
Current Status of AMP    
A small-scale local pilot of the program launched in
January 2019, pairing seven adult mentors from
Minnesota Independence College and Community (a three year post-secondary, life-skills training program for young autistic adults) and from the autism community at large with seven mentees from Bloomington Public Schools' autism program at Kennedy High School.  Pilot evaluation by researchers at the University of Minnesota showed that AMP had positive effects on the quality of life,
socio-emotional health, and social connectedness of
autistic adolescents and young adults.

A full school year pilot with fourteen mentor/mentee pairs was completed in May 2020.  The last month of
mentorship sessions took place online as a result of COVID-19; a highlight was having autistic advocate
Temple Grandin meet with AMP participants for a special session.  The AMP team hopes to expand the program to make it available to more families in the future. 
During the 2020-21 school year, AMP continued to take place virtually, providing what participants told us was critical support when it was most needed. 
Currently, the AMP team is working to expand the program.  With your help, this vital resource will be available to more families in 2022-23.
How AMP is Powered Up
AMP has received financial or in-kind support from the following sources:
Three Bush Community Innovation grants from the Headwaters Foundation for Justice

Private family foundation grant

Community Health Collaborative pilot grant from the University of Minnesota Office of Community
Engagement to Advance Research and Community Health (CEARCH), Clinical and Translational Science Institute (CTSI) 
Jump Start grant from the University of Minnesota
Office of Research and Policy, College of Education and Human Development (CEHD) 

Seed grant from the University of Minnesota Institute for Translational Research in Children's Mental Health (ITR)

Hennepin South Services Collaborative (HSSC) Seed Money for New Start-up Programs grant

Catalyst Grant from the University of Minnesota Department of Pediatrics (Minnesota Masonic Charities) and the Department of Psychiatry & Behavioral Sciences

Faculty Interactive Research Grant from the University of Minnesota Center for Urban and Regional Affairs

Hatch Project, USDA National Institute of Food and Agriculture

GoFundMe individual donations

Individuals who have volunteered their time or

do-nated materials to AMP
As AMP Grows, we Seek:
Annual program funding/Corporate support

For program expenses and staff salaries

Potential partnerships 

We are available to work with established
organizations and businesses  interested in adding autism mentorship by autistic
mentors to their offerings, or learning about how they can better serve the autistic community.

We are open to the idea of becoming part of a larger mentoring organization that wishes to provide autism mentorship by autistic mentors to their clients in order to extend our reach.

Expanded sources of autistic mentor volunteers

Do you work with autistic adults?  Do autistic adults work at your organization/business? We will be expanding our recruitment of autistic mentors in the near future.
Want to Get Involved?
Let us know you're interested in being a mentor or mentee, or become an AMP supporter by contacting us at info@autismmentorshipprogram.org
Thank you for your interest in AMP!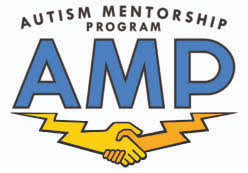 AMP logo original design by 2018-2020 AMP mentee, Johnny Jimenez Lezama.